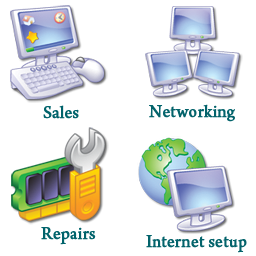 Welcome

Our History!
In 1996 my business partner and myself opened Goldn Internet Services at Miami on the Gold Coast specialising in Computer sales and repairs and running a Net Cafe, We then evolved and set up an ISP and web host company.
During 1998 because of business reasons (partner leaving for overseas) I decided to close the retail outlet and focus on our ISP and web hosting business and also mobile computer repairs and service.
In 2000 we merged our ISP customers over to Ion Internet Services and let them take control of it giving us more resources to expand the webpage creation and hosting, and allowing me more time on to focus on computer sales and service.
Our Current Products and services!
If you have a busy lyfestyle and getting to a computer shop is a problem dont panic, just a quick email or phonecall and I come to your door to pick up and deliver your computer for repairs replacement or reinstall free of charge.
Diagnosis of computer faults and all quotes are free of charge, also no matter how much effort and time is needed to diagnose your computer and finding it a total write off, you will recieve no bill for being told your computer is dead adding to your financial burdon of having to replace your computer.
Our computer services include:
Building computers to suit all users.
Repairing computers of all ages.
Reformatting and windows installation.
Home and small business network setups.
Virus removal.
Anti Virus installation.
Upgrading your computer.
Internet setup.
Adding extras such as DVDRs to your computer.
Our Hosting services include:
Creating business webpages at affordable prices.

Creating personal webpages at affordable prices.

Register and administor domains for you.

Host business websites at reasonable prices.

Host personal websites at very reasonable prices.
Host non profit chararitable organisations free.